Hi everyone, this is Amy from http://multicrafter-amy.blogspot.com/. Last night I whipped up some cards for you all. Well I designed them on my Gypsy and then I cut and assembled them this morning. I am getting a jump start on my Christmas cards. These are actually Christmas Thank You cards. They could also be used as Christmas cards if you change the sentiments.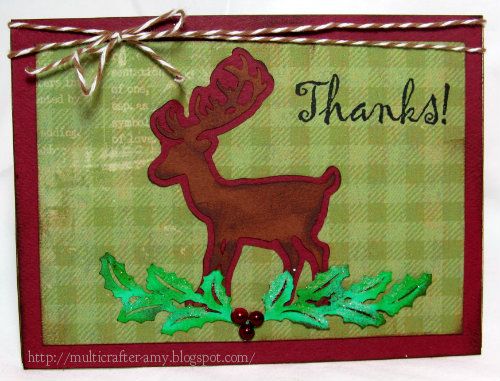 All the cuts are from Teresa Collins - Deck The Halls and Teresa Collins - Holiday Sillouettes. Both cartridges are Cricut Craft Room Exclusives. The only other cart I used was the Imagine More cartridge for the green plaid paper.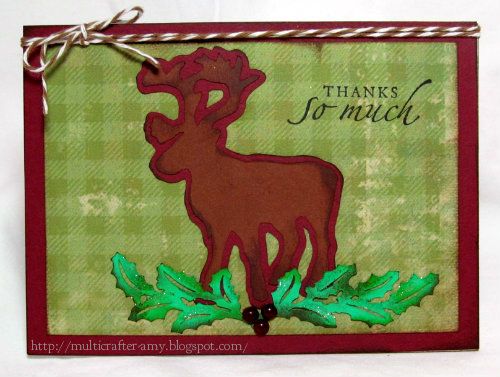 Details of the cards....
Both cards are A2 sized cards (4" height x 5 1/2"). I just a cut a burgundy paper to fit the front of the A2 size card and layered a 3 1/2" x 5" of the green plaid paper.
Carts and Cut Sizes
Imagine More
Teresa Collins - Deck The Halls
Holly = 1.75" just one layer - leafs. You do not need the bell or shadow.
Teresa Collins - Holiday Sillouettes
I used some burgundy pearls for the berries of the holly then I glittered the holly leaves with a fine white glitter. Add some brown and white twine to the top of your card for a finishing touch. Inking all the edges of the paper and cuts

with a small brown ink pad
helps tie all the cuts and paper together.

The Studio G ones work great for this and are only $1.00 at the stores around me.
I hope you all enjoy these cards and maybe they will help you get a jump start on your Christmas cards.