Hi everyone, this is Rita from
Rita's Paper Obsession
. As you know, October is Breast Cancer Awareness month. It is also the one year anniversary of my breast cancer diagnosis. I can't let the month go by without doing my part to promote awareness.
When talking about awareness, the emphasis is on reminding ladies to get their mammograms and the importance of self exams. Yes, these things are important, but I want you to be aware that a lump in the breast may not be the first sign. Five lesser known signs of breast cancer are: 1. Itchy, sore, reddened breasts; 2. Upper back pain; 3. Nipple changes; 4. Change in shape or size; 5. Pain, swelling or lump in armpit. It was a couple of the lesser signs I chose to ignore.
So, my public service announcement - Get those mammograms, do self exams and watch for the lesser known signs. You know your body, DO NOT ignore it.
I am slowly scrapping my journey. One of the things I wanted to remember was a poem I saw daily while I was going through radiation. It was on a plaque hung on the waiting room wall and was a great reminder what cancer could not take from me.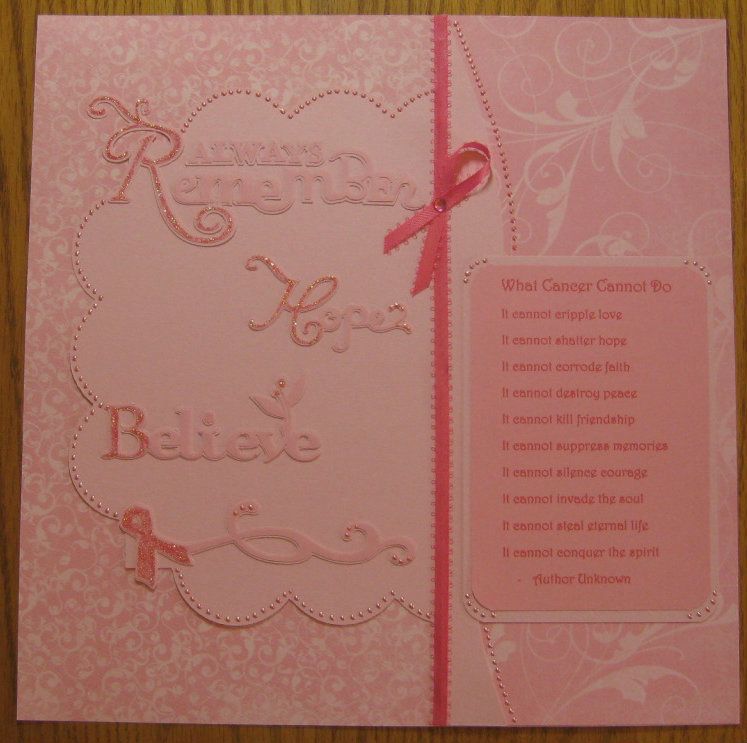 The scalloped cut is from the Elegant Edges cartridge. I used the base image and cut the Ivy (button 2) at 9 inches.
The phrases and ribbon cuts are from the Pink Journey cartridge. "Always Remember" was cut at 2 1/2 inches. "Hope", "Believe" and the ribbon flourish were cut at 1 1/2 inches.
I hand cut the curved edge of the solid on the poem side.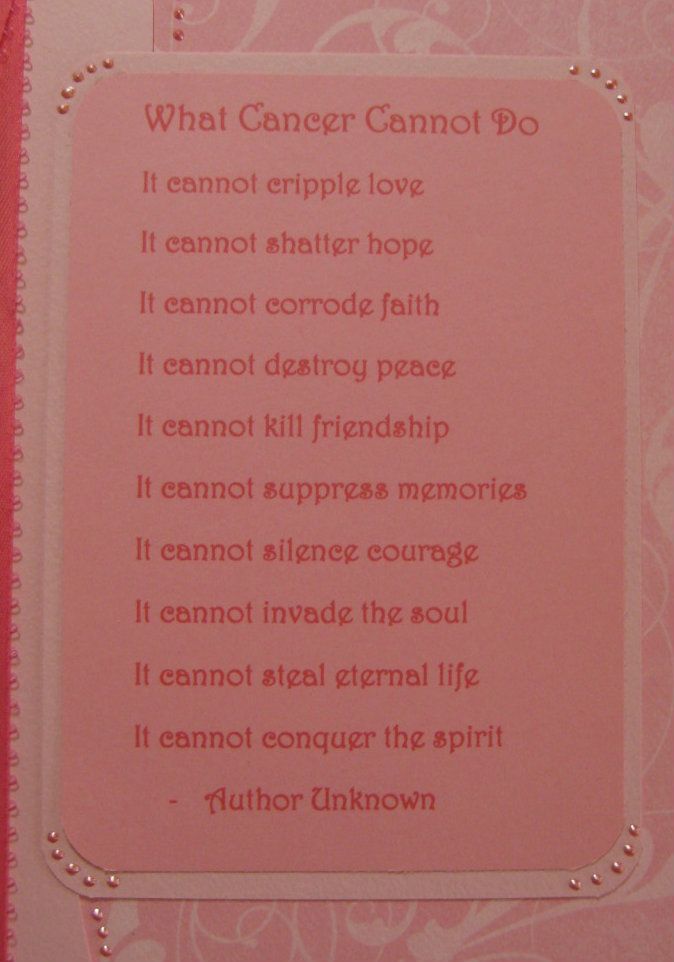 I highlighted the first letter of each phrase and the ribbon with Stickles. I used Liquid Pearls to accent the scalloped cut, along the curved paper edge, on the corners of the poem mat and on some of the flourishes. Ribbon was added to soften the contrast between the two sides of the layout.
Thank you for allowing me to share with you today.
Cricut Info & Other Supplies:
Designed By- Rita Poteat
Cricut Machines Used- Expression
Cricut Cartridges Used- Elegant Edges, Pink Journey
Other Supplies Used- BoBunny's Back to Backs "Passion Fruit Flourish", solid pink cardstock from my stash, ribbon, pink gem, Liquid Pearls - Petal Pink, Stickles - Fruit Punch