Hello! It's Nadia from my blog,
With Glittering Eyes
, and I have a fun back-to-school project to share! Later this month, I will be out-of-town for a few school days so I thought colorful cards for my daughter would be fun ways to remind her that I am thinking of her even though I will be far away! I am sharing one here today!
For my card, I used animals that I morphed together with Teddy Bear Parade to create new and different critters that wear the little school uniforms! You can see
my initial post
on that by clicking
here
to see a whole menagerie of characters! Some of the critters from that post were used on this card.
Stupid Smelly Bus card...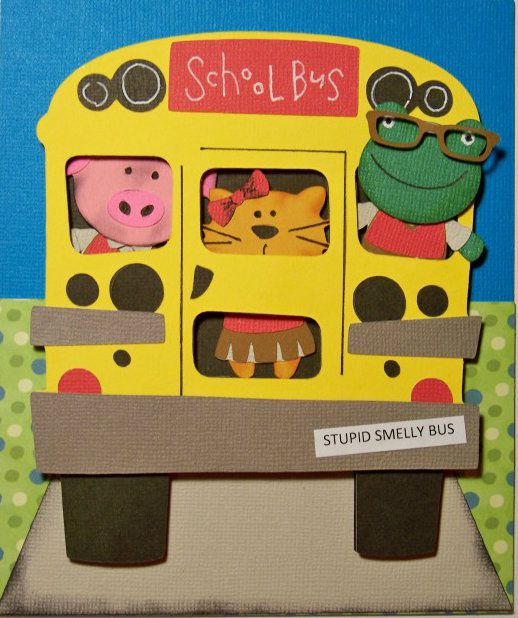 Here's a little background bit:
There are no buses at my daughter's school but we always get behind at least one heading to another school on our morning commute! In Kindergarten and First Grade, my daughter used to enjoy reading Junie B. Jones stories. Once she read the Stupid Smelly Bus, we started referring to all school buses that way, in honor of Junie! My daughter is always intrigued by what goes on in a school bus... always making up scenarios as we pass them or follow them.
For this card, I used three critters from a
previous post on my blog
, adding school uniforms. I stuffed 'em in my favorite bus cut and added a little scenery to plant the bus on the road!
Crafty Details for Stupid Smelly Bus:
This card finishes at 5" wide by 6" tall and is created by simply scoring a 6" x 10" rectangle of card stock in the middle.
Pig - body cut at 2" on the Expression from Teddy Bear Parade; head cut at 2" from County Fair. (Head was manually separated from the body). School uniform cut from Teddy Bear Parade at 2".
Cat - body cut at 2" on the Expression from Teddy Bear Parade; head cut at 1" from Doodlecharms. School uniform cut from Teddy Bear Parade at 2".
Frog - body cut at 2" on the Expression from Teddy Bear Parade; head cut at 1-1/2" (real dial size) from New Arrival. School uniform and glasses cut from Teddy Bear Parade at 2". His glasses are popped up 1/8".
School bus - cut at 5" on the Expression from Locker Talk (page 34). Rear bumper was popped up 1/8". Two black bases were cut and 1/8" pop dots were used between the two bases to create a little space for the critters to exist in. I adhered one black base to the the yellow bus, removing the windows. (After the critters were placed, I connected the two bases with the pop dots.) The bumper sticker was trimmer-cut after printing with Microsoft font.
Blue base - trimmer-cut at 5" x 6"
Green mat - trimmer-cut at 5" x 3"
Gray mat - trimmer-cut at 2-1/2" high with top cut at 2-7/8" and bottom cut at 5"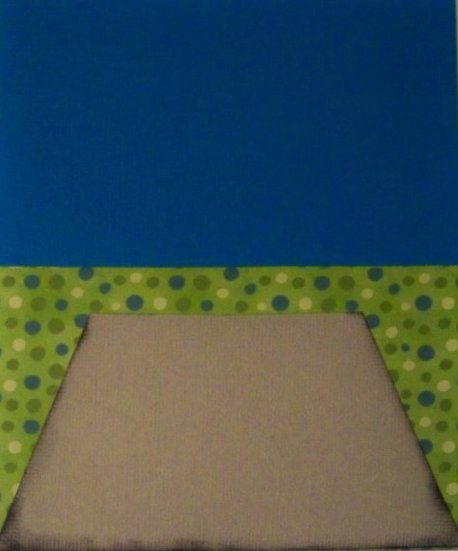 If you enjoyed this card, check out my new project on my blog.
It is a whole classroom vignette in a shadowbox, called Ms. Elephant's Third Grade!
There are lots of fun details, pictures, tips, and lots of new morphed animals! Additionally, later in the month on my blog, I will be posting the whole set of back-to-school kids cards like the one I have shared here. Hope to see you over there!
Cricut Machines Used: Expression
Project Type: card
Project Theme: Kids
Cricut Cartridges Used: Teddy Bear Parade, Locker Talk, County Fair, Doodlecharms, New Arrival
Suppies Used: Card stock from my scrap bin, ATG tape, Scotch Scrapbookers glue, 1/8" foam squares (pop dots), white and black gel pens, black ink and sponge applicator
DON'T FORGET TO LEAVE A COMMENT TO BE ENTERED TO WIN OUR WEEKLY DRAWING IN SEPTEMBER.