Hello! This is Nadia from my blog,
With Glittering Eyes
. I have been so inspired lately by the beautiful cards created by Michele Kovak on her blog,
Thoughts of a Cardmaking Scrapbooker
. I love her style and have learned so much from her since finding her on the old Circle Design Team. I thought it would be fun to get out my 'Michele sponge' and make a card inspired by some things I have been seeing on her blog. I love her recent
Mother's Day card tutorial
,
mini album
, and
Easter card
. I also wanted to make something that looked vintage. I thought this would be a fun card for my last project here as a designer on the Cricut Fanatics blog.
I started with a paper pack from My Mind's Eye with lots of weathered wood and shabby chic florals.
I cut a doily from Artiste (page 31) at 4". After inking it and embossing it, I popped it up 1/4" so that a natural shadow would separtate it from the card surface. I added my ribbon.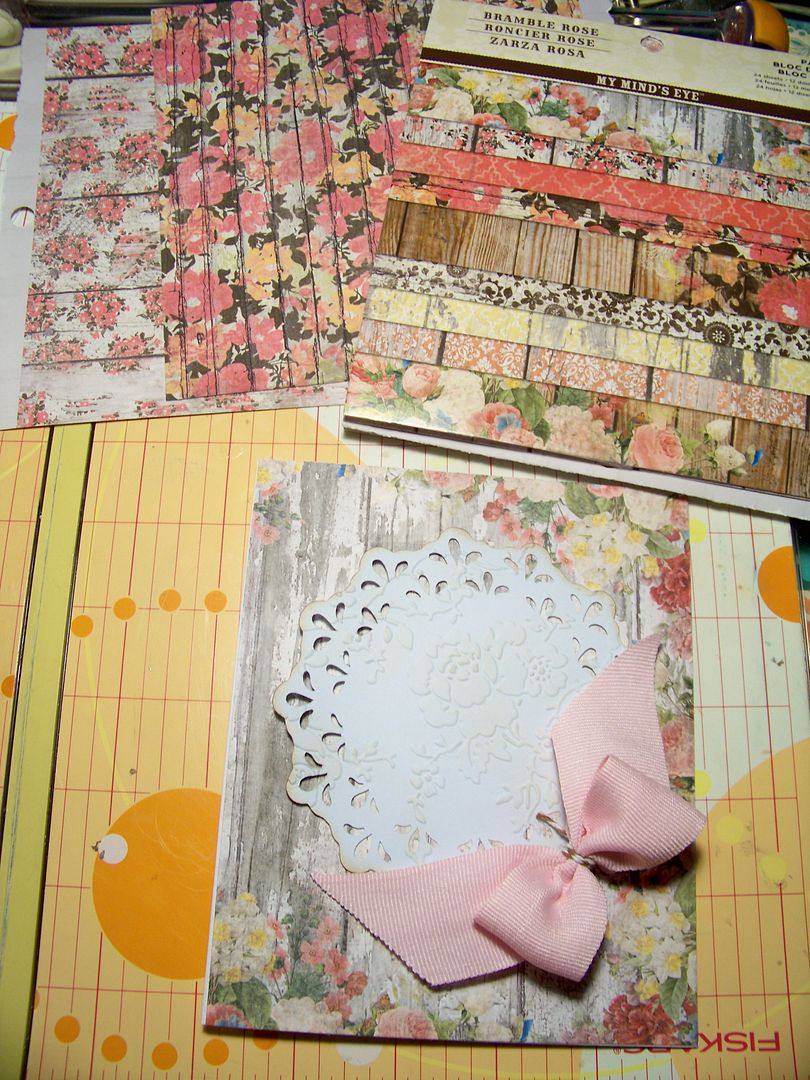 I created a dimensional flower using directions by Kathy Orta, using Cricut George, as in her tutorial, but cutting the base shapes at 2". This is the same flower I recently used in a larger size inside an explosion box. To see my box,
click here
. To check out Kathy's video tutorial,
click here
. I added a thin, fine line of glitter paint along the edges of the flowers. That felt old-fashioned, like some of my grandma's Christmas ornaments. I hand-cut leaves, bending and folding to create a little dimension.
Text was cut from Cricut Lyrical Letters at 1-1/2" and manipulated by hand to curve. (I cut away the butterfly that was part of the text).
To make everything look aged, I inked with brown, including the flower and ribbon.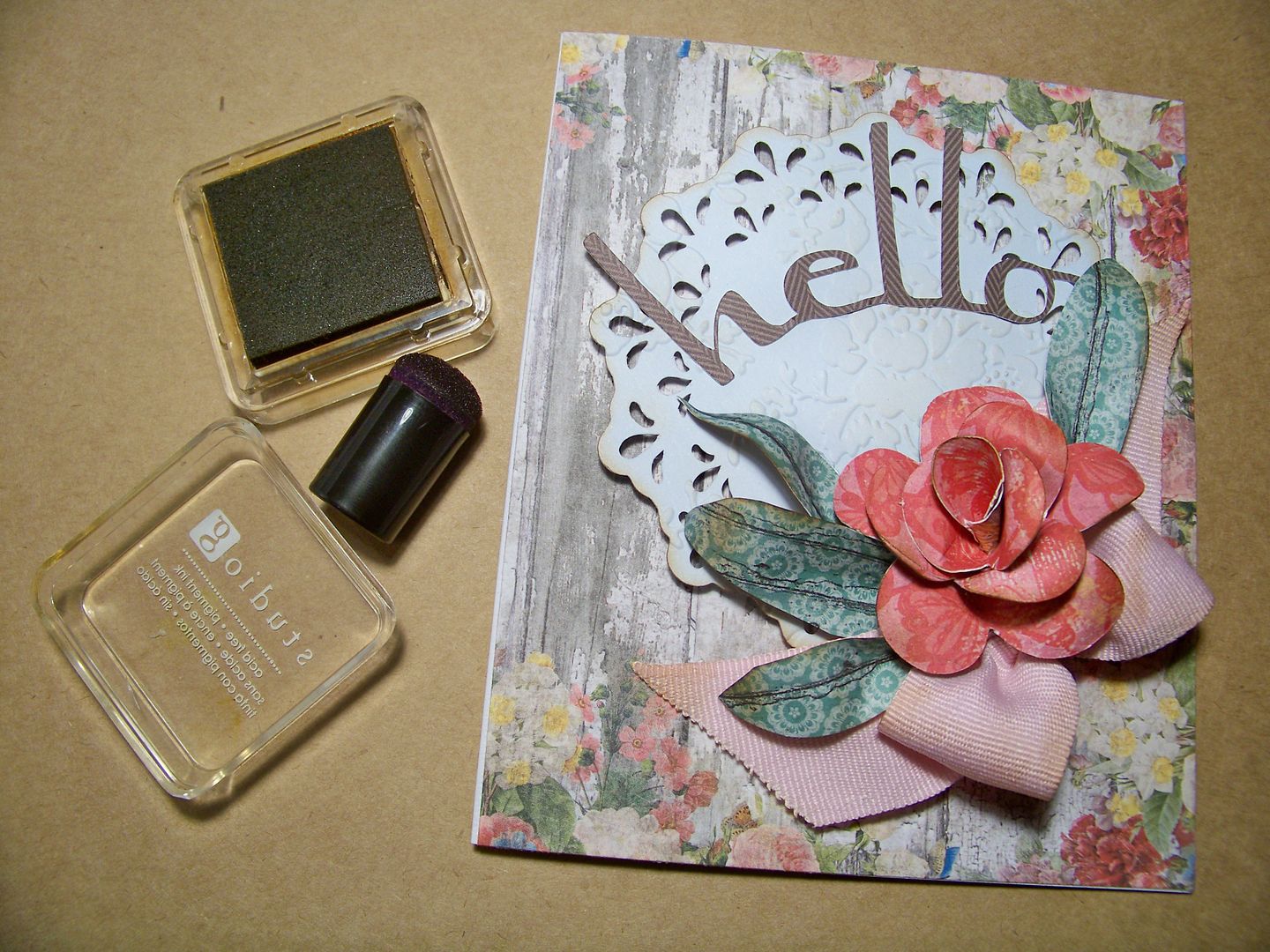 For a little inspiration, I got out some of my Great Aunt Henrietta's buttons and findings...and added a few buttons and snaps.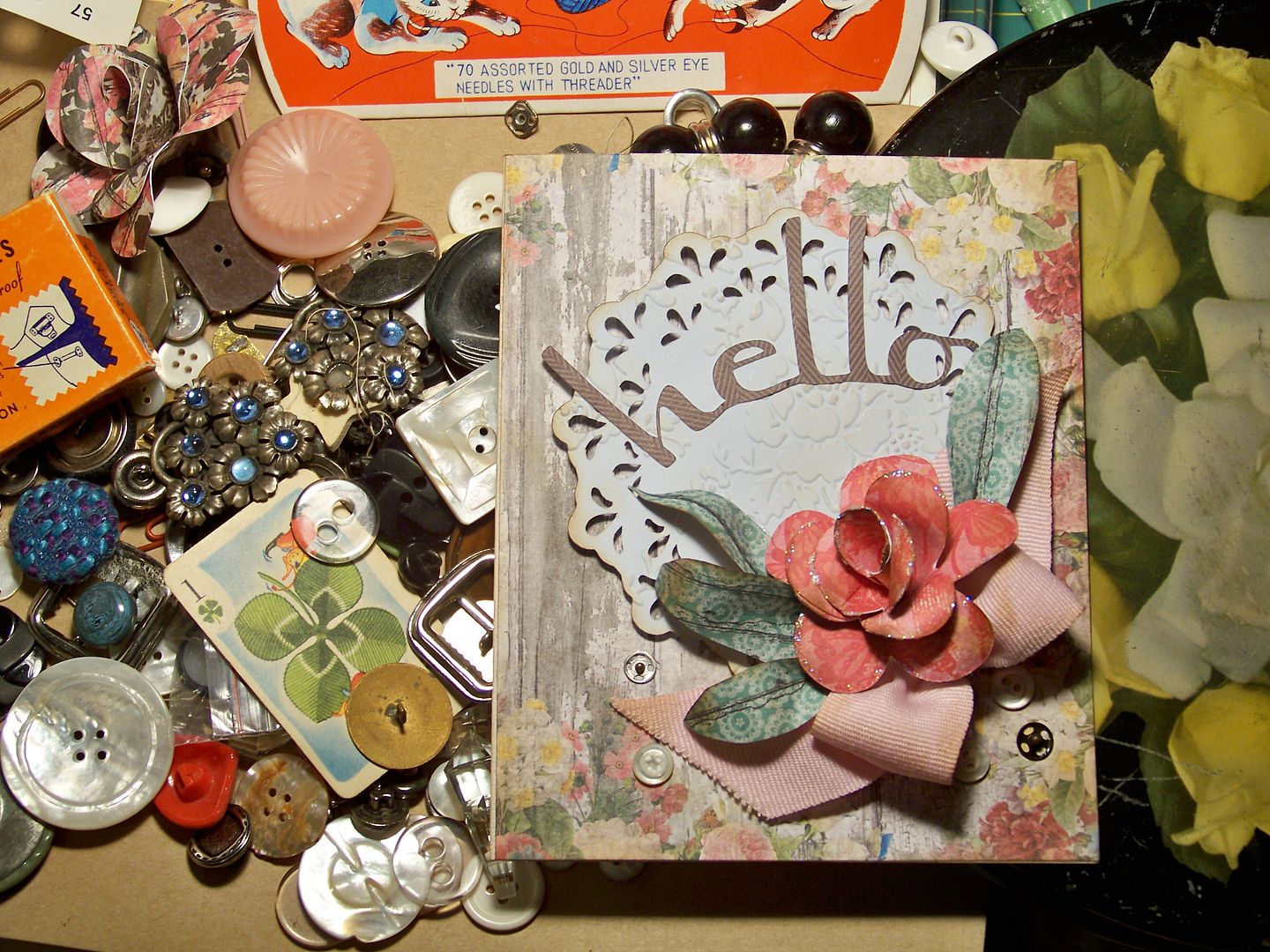 I really enjoyed making this card... and making a mess, revisiting some of my treasures. Thank you for checking my post today! I wanted to thank Debbie and the team for allowing me to design here and wish the best for all my crafty friends who make fun things every week here! Even though I am leaving Cricut Fanatics, you can always find me on
my blog
, my bloggy
Facebook page
, and my
Pinterest boards
!
Cricut Info & Supplies Used:
Cricut Machines Used: Expression
Project Type: Cards
Project Theme: Just Because
Cricut Cartridges Used: George and Basic Shapes, Lyrical Letters, Artiste
Suppies Used:
Paper, Quick Dry Glue, pop dots, buttons, snaps, ribbon, ink, scissors